During our stay at Walt Disney World we resort hopped. We started our stay at the Wilderness Lodge and then moved to Port Orleans Riverside. Staying in one of the Royal Rooms was a bucket list item for a few of us. So it was a must. Staying at Port Orleans Riverside was a good choice. There are several perks and few cons to staying there and let me explain why.
The Rooms
The picture on the Disney website makes the room look so much cleaner and brighter. Still the rooms are cute. Yet, the rooms need some Pixie Dust. There is no fancy roll pillow like the pictures. Nor is there a coverlet as pictured.
Truth is the room was a letdown. At first glance the room was awesome but then when we started unpacking we realized how bad the room was. The light fixtures were dirty and had spiderwebs. That I can understand Mousekeeping missing. But the dresser top was dirty. The light fixtures had dead bugs in it. All the furniture had seen better days. The carpet had stains. There were stains on the walls.
I did not expect this from a Disney hotel. For a Vegas hotel maybe. Not a moderate at Disney World. When I cleaned the remote later that night I almost thew up. I could never get it clean. After 3 Clorox wipes I was over it. We tried not to touch it. We use a ziplock bag for remotes but I forgot to pack some.
The shower was a nightmare. After everyone had cold showers, we realized they mislabeled the water faucet.Still the second shower was cold.There was no water pressure. The tub was ok. Not as nice as I had hoped. The bathroom is small. Lacking the room to get dressed. But for a few days I could tough it out.
Noise wise in the night you will hear toilets flushing and doors shutting. It is not as quiet as a Deluxe hotel. We tried sleeping in one day till 7 and that was impossible with the noise. Mind you, I think the Royal Rooms attract a lot more families with small kids.
Also, we never could use the WiFi. Still I did not hate the room. It was ok. I had stayed in worse.
My main gripe was the walk to the lobby and dining. It was not terrible. If you have tried kids like I did, it can be a miserable walk.
During a tour of the Alligator Bayou section of the resort I heard good news. They told me the Royal Rooms are getting refurbished soon and they will remove the carpet. So keep this in mind. But, next time we will book the preferred room.
Bottom line, the rooms need help. Book a standard room. This hotel has nice clean rooms just not the Royal Rooms. I hope Disney refurbishes them soon.
The shabby room will not keep me from returning. I understand rooms get old and worn. It is important I mention the air conditioning made the air very dry. I would bring a travel humidifier and white noise machine if I stayed here again. It's likely I will.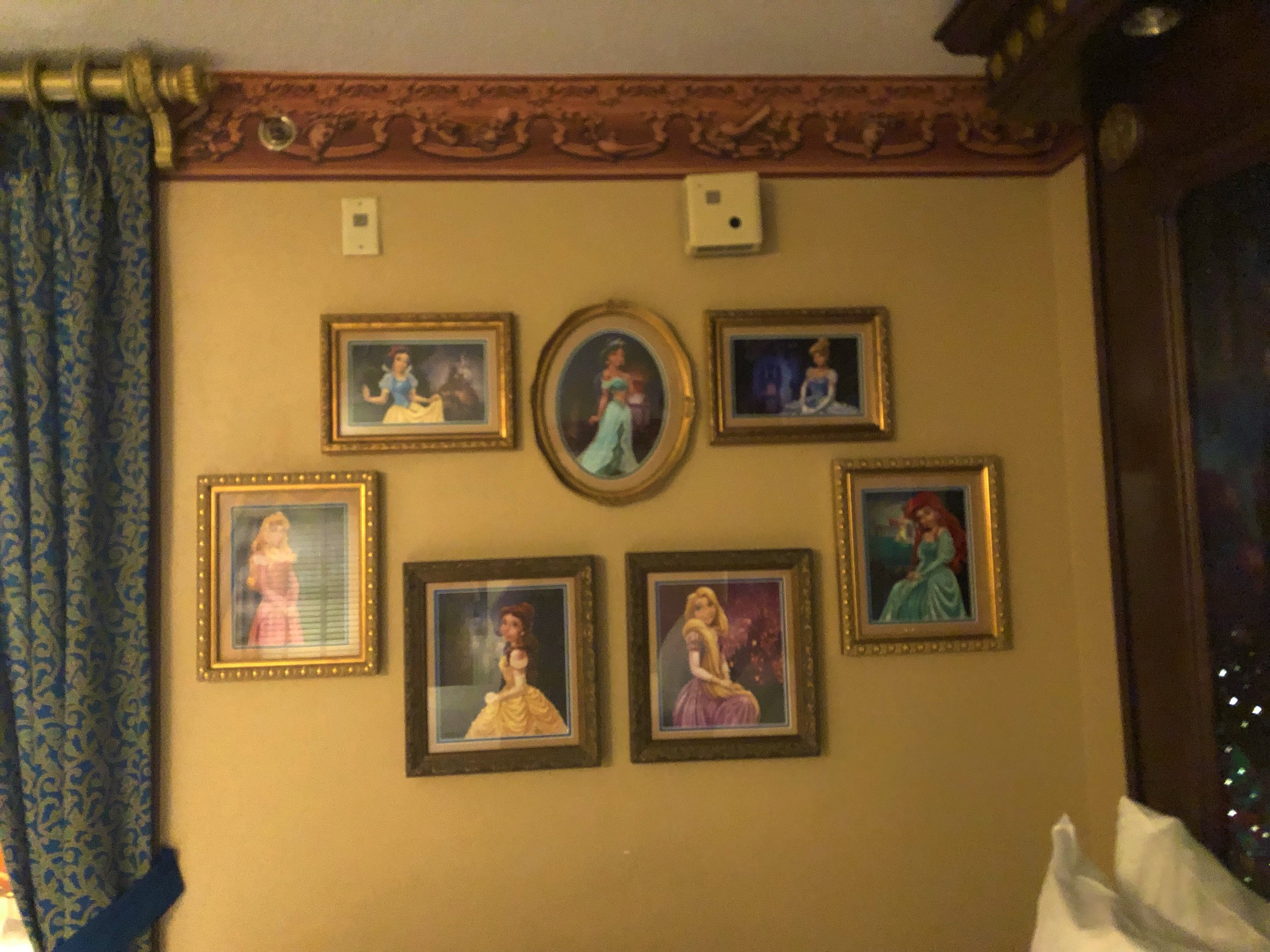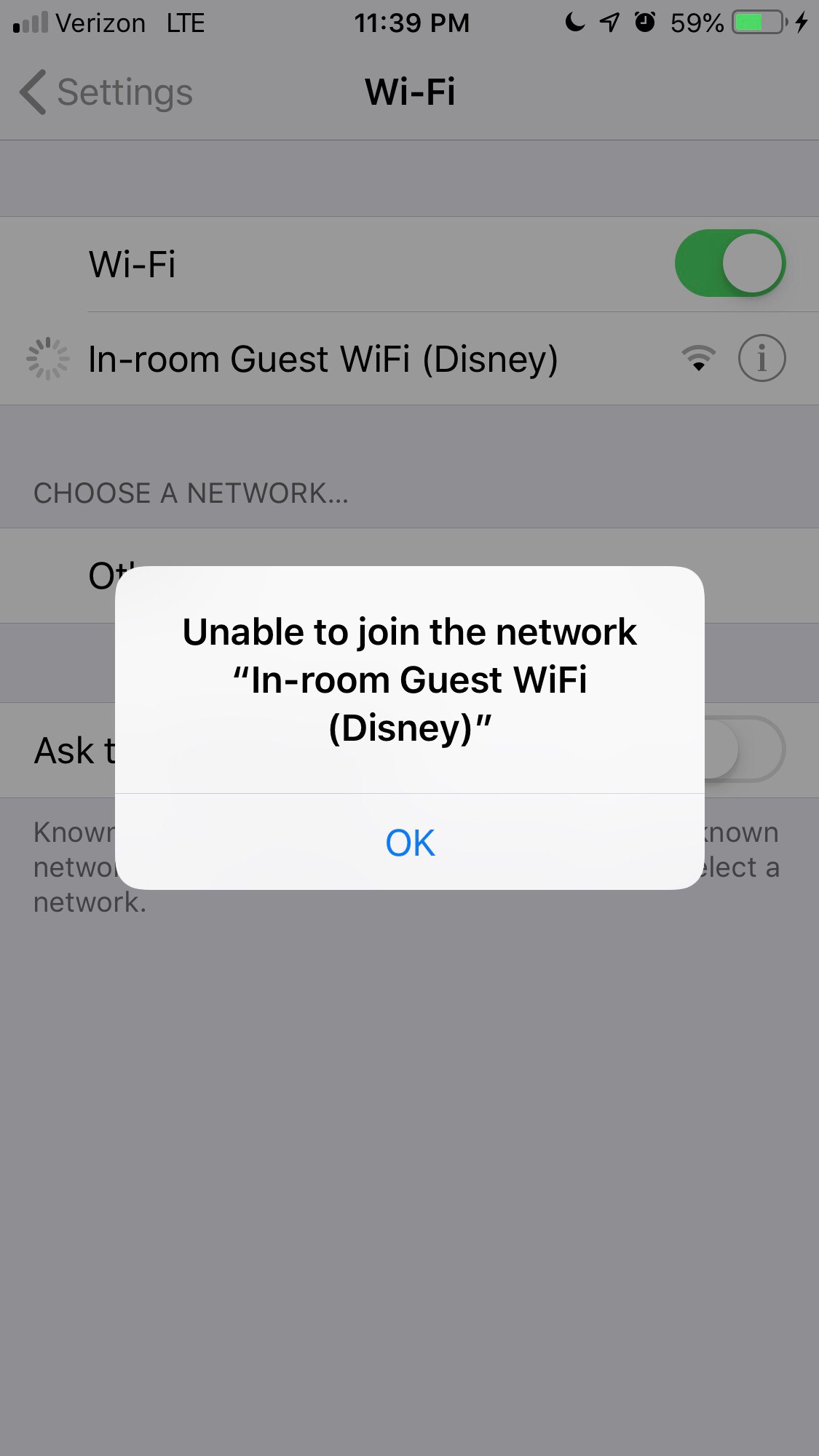 The Lobby
The lobby is stunning. But in need of some TLC. The carpets and the furniture needed some cleaning. Port Orleans Riverside's only Fuel Rod Location in the lobby never worked. It was just dirtier then I expected. The carpet was nasty in some spots. I wonder why at night they could not shampoo the stains out?
The lines are longer too. But there are plenty of places to sit or plug your phone into the wall. I liked the gift shop better than Wilderness Lodge's. It was bigger and had more merchandise. Especially the groceries. Overall, the gift shop was awesome. They offered more merchandise and everyday items than the deluxe resort I had just checked out of.
Entertainment
Yehaa Bob Jackson was the highlight of our stay. He puts on delightful family friendly piano show. Which takes place most nights at the River Roost Lounge. The kids in the audience get to take part in the show so they will feel included. Yehaa Bob's show is lengthy but the time flies. We did not try any food, but the drinks were delicious. I cannot recommend enough that you must stop buy to see Yehaa Bob.
Dining
I would have loved to dine at Boatwright's we never had the chance as our stay was short. We ate at Riverside Mill Food Court a few times. The service and quality were excellent. The Riverside Mill Food Court has amazing Turkey and Gravy at the Chefs Carving Table. My husband and son had ordered it and I had a few bites. It was the best turkey with gravy I have ever had. I regret not getting a plate myself. I tried the Pasta Carbonara that night. My pasta was tasty, but the turkey was better.
The breakfast we had was great for counter service food. What impressed me was the desserts. They were all amazing. The food court is another reason we have decided that we would stay at Port Orleans Riverside again.
Activities
Port Orleans Riverside offered more activities than Wilderness Lodge.
There are many pools at this hotel. The one near our room had no slides or refreshments. But screened movies at night. The Doubloon Lagoon over on the French Quarter side is the best pool. We only used the splash pad for the kids but that entire pool is amazing. It's a bit of a walk but worth it.
We rented a Surrey Bike, and that was an experience. It was a nice workout and there was a tiny hill hard to pedal up. But the kids had so much fun. The Surrey Bikes were a wonderful way to tour the resort.
We killed some time waiting for Disney's Magical Express at the Medicine Show Arcade. We had a younger child used to arcades that have games that give out tickets for prizes. So she was not happy. There were plenty of games. But few for the younger child. If you have a teen that likes video games and feels bored they would like the arcade. Smaller kids not so much.
I am sorry I forgot my running shoes. The jogging trails looked awesome, and I missed out on the Beignet Dash which takes place on Sundays. The Beignet dash is a 1.5 mile fun run that costs $15. You get a plastic medal and beignets when the fun run is over.
We did not have time to try the Horse-Drawn Carriage ride but will make it a priority next time. It looked amazing.
My daughter felt sad that we did not have time to check out the playgrounds. There is a playground on both the Riverside and French Quarter sections.
The hotel also offers campfires which you can inquire about at check in. They sound fun. We just did not have time.
They also offer bass fishing on a boat which is catch and release. There is also pole fishing on Ol' Man Island which is also catch and release.
Transportation
We never had the time to try the Water Transportation. There is a boat to Disney Springs. We were told by a guest it takes forty minutes total to return from Disney Springs. Still, I will try it on the next trip. Lyft fares add up. I can wait for free transportation.
We used the Disney Bus transportation to Epcot. This was the one time on this vacation the bus showed up, and it wasn't packed. We arrived at Epcot quickly. I didn't think we would arrive before opening but we did. The bus back was great it was not packed either. When we were staying at Wilderness Lodge, the busses were so packed I felt like a sardine. The busses at Port Orleans were amazing. I will use them again.
Disney's Magical Express was late. All of us including the other families were getting worried. No Cast Members updated us on the buses arrival. When the bus arrived, it was empty, so it had not stopped off at any other resorts. It was a free ride to the airport, but it caused a bit of stress.

Final Thoughts
We toured the Alligator Bayou rooms. Which are awesome. The worn down dirty room is not an issue that will not keep me from staying at Port Orleans Riverside again. While I loved Wilderness Lodge, this hotel had better options at the counter service. We also had a much easier time using the busses from Port Orleans Riverside.
Also there was better entertainment. If we had cut the day short at the parks at Wilderness Lodge, there is no live entertainment. We had no other options other than swimming or Geyser Point. When staying at Port Orleans Riverside we could leave early and not feel like that was a mistake.
I could tell Port Orleans Riverside was a moderate hotel. The main difference was the rooms were not as posh and the towels were smaller and stiff. Another noticeable difference was the noise.
You can hear more noise from the other rooms. When the noise became and an issue we had to wake up, anyway. The room was $120 cheaper a night than Wilderness Lodge. So next time I will just bring a white noise machine.
Bottom line, I hated how worn the room was. It was dirty too. We were tired when we arrived. It was nine. We had gotten off at the wrong bus stop and had walked far. Once I started writing this, I realized I should have called and asked for a different room.
Still, I did not let a worn room stop me from enjoying the other perks. Overall, Port Orleans Riverside has a lot to offer. The perks make a noisy room easier to live with. I will stay here again just in the Alligator Bayou next time.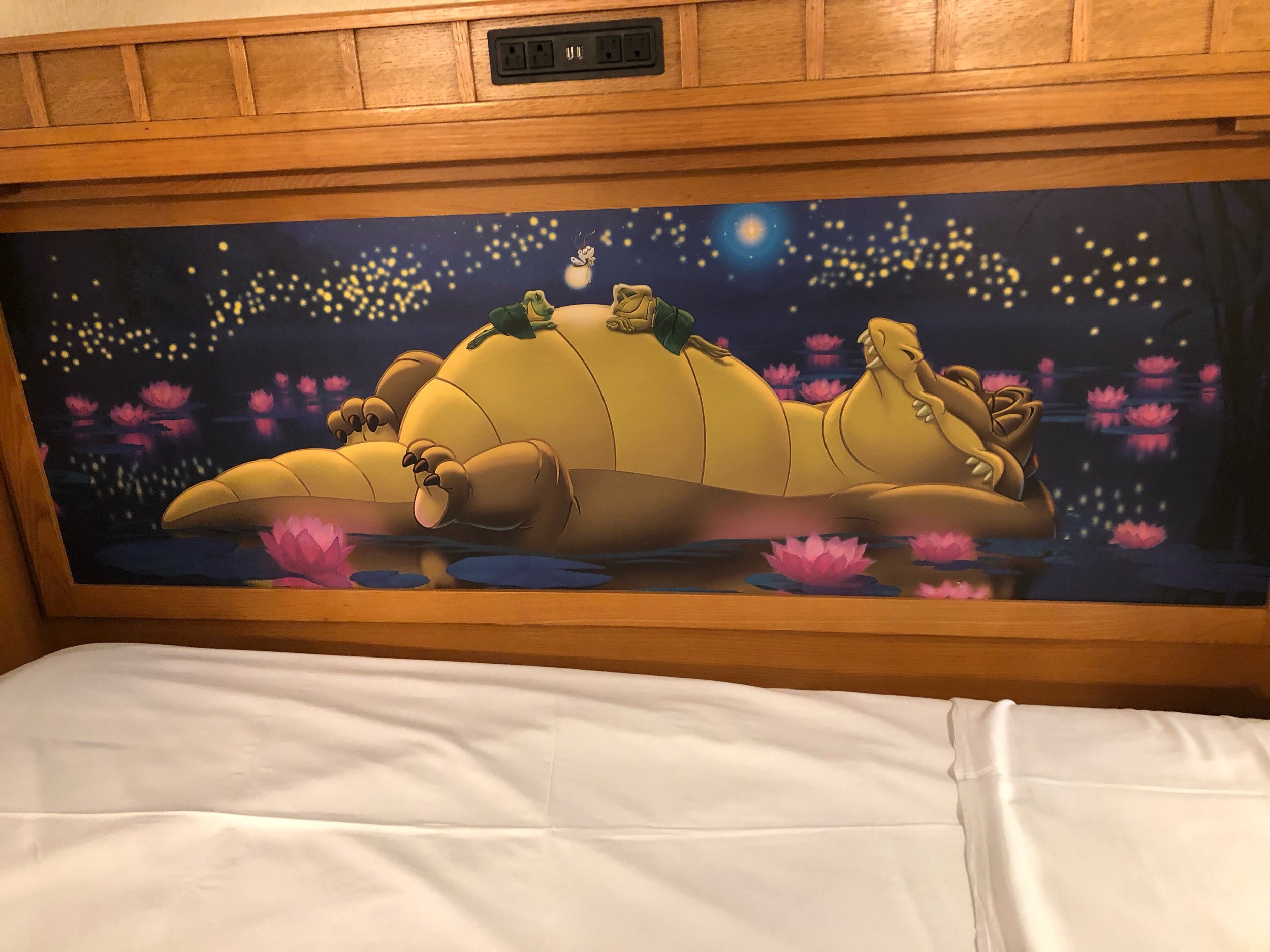 The Alligator Bayou Room.